Wall Mounted Coat Rack Rustic And Welcoming
Blank walls are an immediate put off, decorating with eye catchy accessories makes them look attractive. X-cosrack has a stunning collection of Wall Mounted Coat Rack that instantly uplift the vibrance of any given space. We bring in some warm and welcoming wall fixture ideas that will complement any theme by giving your home a luxurious makeover.
Lanters
There is nothing like a lit up wall and lanterns are so whimsical, they not only give romantic vibes but also make the environ positive. Wall Mounted Coat Rack anchor this whole amazing look, place these wooden shelves on the living room wall for a featured/accent style. Adorn them with colorful lanterns and set up fairy lights to create a mesmerizing ambience instantly. Throw a thick floor rug, add comfortable show pillows, place a spectacular floor lamp and add vintage side tables. Thus, you will have a dazzling lounge area to entertain guests throughout the season.
Quotations
Perfect for entryways and passages – quotation art is the new trend in the interior scenes. You can DIY your own favorite quotes and enclose them or you can buy them framed in different shapes and sizes. These can also be done up gallery style in any room. Ideal for home office space where you need some motivation to carry on with a tough day, pair these photoframes with leather furniture for an epoch feel.
Art It
An excellent way to create memories is to hang your kids paintings, writings, drawings and doodles. An ultimate way to encourage the artistic skills in your children, make them feel proud about their talents. Install an elegant bench in front of the artwork displayed on the wall to give it a museum like feel. This can also be a gorgeous way to have a natural decorative headboard in the kids' room.
Faux Subway Tile
When you crave for a city style subway wall, how can you improvise? Bring in some New York ambience into your bathroom with just a pencil and sharpie. Yes! You can now DIY a sleek tiled wall without actually installing any white tiles. All you have to do is paint the bathroom in clean tones, then with a pencil make neat lines looking like squares. Slowly and steadily mark the lines with a black sharpie, thus creating a chic contemporary look. Embellish the bare bulwark with wooden floating bathroom storage shelves for bathing supplies.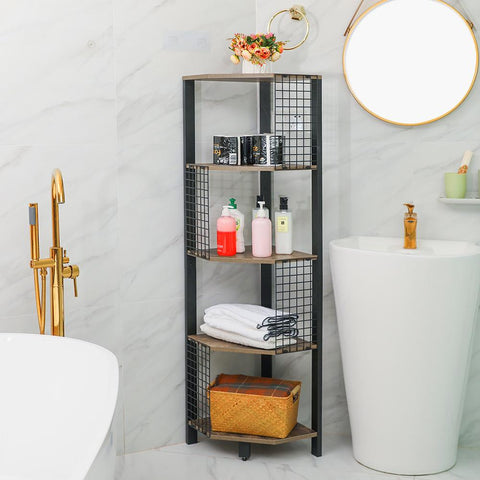 Chalkboard and Mirrors
Do you have spare old mirrors at home that need a new look? Recreate them with chalkboard paint and place them on 5-Tier Corner Shelf with Grid Plate in the kitchen. Write down menus, birthdays, pantry and grocery check list, and recipes on these well-designed boards. For an added modish vibe in the kitchen place mirrors on the corner shelves along with artwork, sculptures and little figurines.
Canvas the Walls
Do you have a set of beautiful photos hidden in your mobile or somewhere in a digital camera? Are you a budding photographer? Then establishing a treasure trove of memories on the wall is the best way to decorate them. Turn your collection into striking canvas prints and place them on pretty timber wall shelves throughout the house. An instant conversation starter around the dining space, hang them to embellish your common hang out area. Mix and match or just make a huge collage on the wall with these prints, thus making your space look eccentric and wild.
X-Cosrack home furnishings allows you to repurpose the elements and design the perfect wall space that brings in warmth. Start with an ambiance table and choose a theme and then work on it to create a luxury style with these decor elements. An artfully decorated wall is a refreshing welcome on any given day!
---
X-cosrack